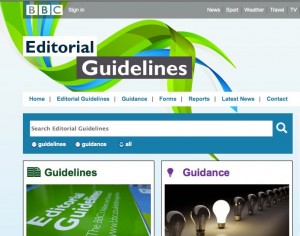 The Web 2.0 and social media have multiplied the possibilities for journalists and media, but also arise new questions about how journalist should use them.
The media have been going out to the questions posed to them in day to day with the publication of the first guidelines including this new situations. But most of them, are slow to understand and adopt new applications of social media.
Recently was published an update of the guidelines of the BBC, updating those published in 2005. And, as recognized, technology surpasses them and forces them to adapt to new situations.
There are several issues affecting the relationship between media and the existence of social networks and user generated content (UGC). The use of pictures and other UGC has its own chapter on the BBC guidelines.

Personal use: What the BBC, the Washington Post and New York Times says
Another issue is about journalist personal use of social media. The first difficulty is to distinguish when is a personal or corporate account when there is only one (is determining when they have been implemented?). We know recent cases of Octavia Nassar on CNN or Mike Wise on WaPo.
Other case still open, Rick Sanchez, who was fired from CNN and has a Twitter account with tens of thousands of followers. Who should own the account now on?
For the BBC " Blogs, microblogs and other personal websites which do not identify the author as a BBC employee, do not discuss the BBC and are purely personal would fall outside this guidance". However, when they do, there is kind of a flexible stage:
– New and existing blogs, microblogs and other personal websites which do identify the author as a BBC employee should be discussed with your line manager to ensure that due impartiality and confidentiality is maintained.
These are the limits placed
The most restrictive so far has been the Washington Post guidelines. According to them, journalists even in their personal accounts represent their employer. Nothing said in these accounts should go against the Post "news judgement". Even one of his editors decided to close his Twitter account because he thought his personal views might be confused with those of his newspaper.
The New York Times also positioned on the issue, without being restrictive, but reminding  editors that the information being published online is publicly available and can be "magnified" in seconds.
Looking for balance and common sense
How it looks is a topic with many faces and is not easy to determine the criteria, specially when Internet and Web 2.0 landscape is evolving so quickly.
It is valuable the reflection of a ethics professor Stephen J. A. Ward of the University of Wisconsin. In his opinion, should be a balance between encouraging the use and participation of journalists in the social networks and maintain the standards of impartiality and independence of the media and its journalists. As he recalls, it is not to limit or restrict anyone or rules should be written to "fix a problem." This is to ensure that it contributes to a more democratic and responsible journalism.
According to Ward, on one side, the rules should be flexible to promote the use of new media, and on the other, rules must be compatible and to respond to basic principles of journalism, as independence, freedom, responsibility, etc.. ..
Other published guidelines on the use of social networks by journalists:
We will discuss this topic next thursday. See you on Thursday 21st at 19.30. Please, sign in here.