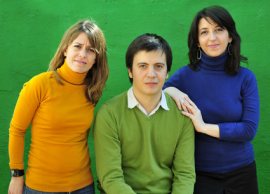 Anversal is a newspaper and editorial design firm, founded in April 2009 by Olga Lamas, Víctor Gil and Teresa Domingo. The three of them are journalists, and worked together at the studio Cases i Associats for 10 years on all kinds of editorial projects before founding their own firm. One of their latest projects was the design of the newspaper Ara, but they have worked as well on the re-design of the portuguese newspaper Destake and other editorial and content planning projects for Time Out.
Víctor Gil used to work as an art director in the romanian newspaper Adevarul and the sunday edition of The Independent before founding his own firm. He says that the current economic situation "hasn't been an obstacle for our company, beyond the usual: lower budgets and delayed payments". Víctor insists to new entrepeneurs in the importance of communication and having a carefully nurtured contact network of potential clients.
Key data:
Start up costs: 10.000€
Staff at launch and today: 3.