diciembre 13, 2011
No comments yet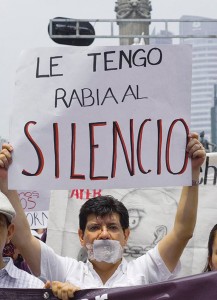 The journalists we are getting use to aceppt precarious jobs. Many hours and hard work for little pay and conditions that do not value our knowledge either our experience.
The lattest has been one company that paid € 0.75 per text of 800 characters (not even spaces, as usual asked). A price that is not only insufficient but is clearly an insult.
800 characters are not double what you've been reading.
But the job also demand for knowledge of search engine optimization, internet writing, writing and structure. More over the author may be penalized if the text did not like or was not creative enough. He was not going to get paid if he did not write – and be approved "lucky" 10 editors who passed the selection – about 400 texts. 300 euros for it, likely to be rejected.
A colleague from Seville, Azahara Cano, "was selected" and she said no. She first reported on Linkedin and then on Twitter. The Press Association of Madrid (APM) supported her using the hashtag #gratisnotrabajo. And like them, many, many colleagues who have turned the slogan into a cry of dignity.
We, as BCN Media Lab, also endorse and support.
We support her and many journalists who suffer unacceptable, humiliating work conditions.
So many freelancing and false selfemployed workers, the weakest parts in the chain, who they get much less than what they were paid a while ago with the excuse of the crisis. And no chance to reply or complain. Or those who are required to work for free to keep his job or be indefinitely delayed payment.
All are situated on the verge of labor and social degradation.
It's enough.
Journalists are necessary in a democratic society because a free and independent journalism is a guarantee of transparency.
And we deserve More respect.
Stop job offers that do not recognize our work and our craft.
Stop to take advantage of the need of people.
Denounce.
We also # gratisnotrabajo.