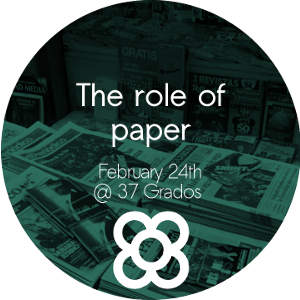 Date: February 24th
Time: 19.30
Place: 37 Grados (Av. Roma / Comte Borrell)
When organizing the third BCNMediaLab event we started asking ourselves: how will be the newspapers and magazines of the future? What will be their role in a news ecosystem dominated by real time, ubiquity and overload of information? We are seeing how press companies join digital natives, but also digital companies that decide to venture into paper. Newspapers and magazines are still born in paper form, like the catalan newspaper ARA, or the local magazine Barcelonés, defying the voices that keep claiming that paper is dead.
It was the journalist Philip Meyer who dared to say exactly when the newspapers will die, in his book The Vanishing Newspaper: 2043.
In the United States at least 166 newspapers ceased operations since 2008, but there are still 1.600 published daily. In Spain, the 4 major newspapers have reduced their staff by 39% since 2003, and there has been more than 2.000 layoffs since the economic crisis started.
With all these data, we asked ourselves: What will be the role of paper? How will be the newspapers and magazines of the future? To whom will they be addressed? Will they remain influential? Will they even be daily? What will drive us to buy a paper publication when we have digital, interactive platforms at our fingertips? To get answers to those questions, we have invited:
Louis-Charles Tiar, editor of Barcelonés and Madriz: two young projects with a clear bet for paper and diferentiation.
Antoni Maria Piqué, journalist and PDD by IESE. He's a consultant in Newsroom Organization and Integration and Editorial Development. He has managed or participated in projects in more than 100 newspapers, from 55 companies and 23 different countries in Europe and America. He worked in La Vanguardia and was the editor of the Diari de Tarragona. He's also associate teacher in the Universidad Internacional de Cataluña. He writes about media and journalism in the blog Paper Papers.
And José Sanclemente, economist and managing director of Imagina Media, a media consulting company. Until 2002 he was member of the board in the Grupo Zeta. He was president of the AEDE (Spanish Newspaper Editor Association), and promoter and founder of the free newspaper ADN. He writes on his blog, Entre medios.