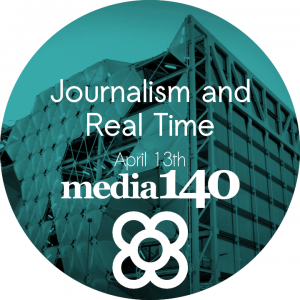 Date: April 13th
Time: 14.00
Place: Media140
The next BCNMedialab ecounter will take place within the programme of Media140, a local chapter of a global series of events and workshops, that will take place in Barcelona the next April 13th and 14th. Key journalism figures like Joseba Elola, Jay Rosen, Gumersindo Lafuente and many more will gather in keynotes and workshos with the objective to explore the impact of digital and social technologies in the journalism and communication practice. BCNMedialab will host a round table on April 13th at 14.00h, where we will dive into the use of real time tools as a journalistic format with three case studies:
Rafel Luján, from Barcelona Televisió, will explain how they used real time to keep citizens updated during the big snowfall of March 2010 that brought Barcelona to a halt and their integration of information from citizens, institutions and journalists.
Jordi Pérez Colomer started his blog focusing on Obama and US politics, and maybe just because of that, he has paid more and more attention to the situation in the arab countries. He has become a reference to follow the latest news in spanish, about the arab countries' revolutions.
Anna Muñoz works in the digital newspaper in catalan language La Malla, that covered in real time the general strike of september 29th of 2010.
If you wish to attend the event, you can register in the Media140 website.