November 26, 2010
In
No comments yet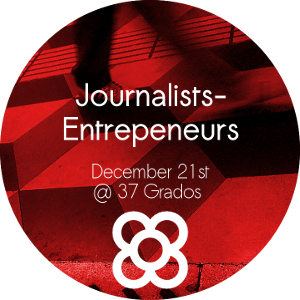 Date:Tuesday, December 21st
Time: 19:30h
Place: 37 Grados (Av. Roma/Comte Borrell)
Since 2007, thousands of journalists have lost their job. More than 5.000 are currently unemployed. The layoffs in media companies, traditional or not, are constant. There are almost no new job openings, and when they happen, the working conditions are poor. What's the solution?
In the next BCNMediaLab we want to discuss an option that is increasingly popular among journalists: to become entrepeneurs. Journalists are building online micro news sites, social networks, independent audiovisual production companies, PR and communication agencies… Fortunately, there is a growing.number of examples.
Powerful initiatives like Politico and ProPublica in the US or Cuarto Poder, Periodismo Ciudadano or Bottup in Spain, have shown that the figure of journalist-entrepeneur is possible. Even Jeff Jarvis has launched the Center for Entrepreneurial Journalism. Hundreds of journalists are not waiting anymore for the media to provide them with a job. They invent one for themselves.
Is it possible to be a journalist-entrepeneur today in Spain? What kind of knowledge and resources are necessary? Which ideas are more likely to succeed? and to fail? Is it a viable option for anybody, or only for a few?
We have invited four journalists-entrepeneurs to answer this and other questions, and to tell us their own experiences:
Vicent Partal: is the founder and managing director of Vilaweb and it's considered a pioneer in online and digital media in Catalonia. Before founding Vilaweb he worked as a journalist in El Temps, Diari de Barcelona, TVE, Cataluña Radio, el Punt and La Vanguardia.
Christian de Angelis y Pilar Riaño: In march 2010 they launched Modaes, an economic news website focused in the fashion market that has become a reference in the market in its few months of activity. They both used to work for Unidad Editorial economic newspaper, Expansión.
Valentí Sanjuan: Journalist, founder of cine.cat, responsible of the tweetpeli.org (collaborative movie made by twitter users) and the online TV and radio program Vist i no Vist, which was previously broadcasted by Catalunya Radio.
Andreu Caritg and Oriol Solé: journalists, co-founders of Patabrava.com, one of the first university-oriented social networks in Spain, founded in 2002, and with more than 300.000 users today.